Residents from Eritrea refuse to pay 2% and therefore are not allowed to go back to their homeland to visit and their relatives' are subjected to persecution. 
 
Eritreans in Norway are asked to pay "taxes" to the country from which they fled. If they do not pay taxes, they are not allowed to travel to visit their families. At the same time, their parents and siblings in the home country are persecuted because these Eritreans in Norway do not pay.

There are examples of relatives who have been harassed and imprisoned, if this tax is not paid.
Mafia Methods 
These are extortion and mafia methods, according to several Eritreans that the NRK has talked with. There are around 3400 Eritreans in Norway. The first refugees arrived in Norway in the 70's. Eritreans in Norway have fled from one of the world's worst countries when it comes to human rights violations. The problem is the regime has long reach and Eritreans in Norway are exposed to what many perceive as blackmail.  All Eritreans are asked to pay an annual 2 percent tax on all income to the country they fled from.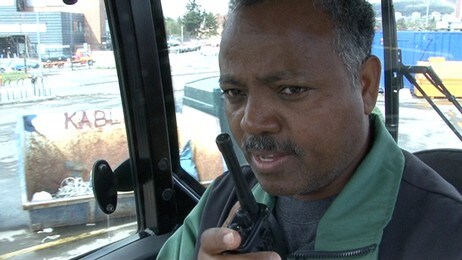 Kidane Mahari refused to pay taxes to Eritrea after having fled the country in the 1970s. 
"I refuse to pay this tax, but it means I cannot travel and visit family, I cannot inherit from my parents and I cannot invest in the country," said Kidane Mahari, an Eritrean who came to Norway as a refugee in the late 70s.
He says that the brothers, sisters and parents will suffer if this tax is not paid. We know that parents risk losing the license to trade, if a son overseas has not paid the tax, he says. The call to collect this tax from Eritreans in exile is confirmed by the Land Information, the Immigration Advisory body in immigration cases.

Family members punished
Country Adviser for Eritrea, Knut Holm, confirms these allegations.

"There is an expectation that Eritreans in exile have to pay 2 percent tax. If this tax is not collected, we know that family members at risk of losing their rights "said Holm, who is country adviser, who has confirmed that Eritrea's refugees are asked to pay tax.
He is not the only one that confirms the story. This tax helps to perpetuate one of the most totalitarian countries in the world. The tax does not help feed the population, but helps a dictatorship. Therefore, Norway has asked Eritrea to respond to this taxation issue and at least investigate the extent of that family in their home country will be punished if the tax is not paid, said Kjetil Tronvoll, who is a senior partner in the Oslo-based International Law and Policy Institute. Many Eritreans have fled the country, Ragnhild Imerslund, press spokesperson of the Foreign Ministry, said they will investigate.

On the basis of NRK information about harassment of Eritrean citizens in Norway, the Norwegian authorities consider taking this up with the Eritrean authorities as a possible violation of human rights, says Imerslund to NRK.

Hundreds of thousands of people are escaping the country now - it's from Eritrea Norway has received the most asylum seekers so far this year, according to UDI.

Rejects the consequences

A representative of the Eritrean embassy in Scandinavia denies that there are consequences for Eritreans who do not want to pay 2 percent tax. "Eritreans who do not pay, can freely enter the country, but they cannot do business or inherit property," said the representative in a statement. 

Imprisoned without trial

Eritrea is a one-party state with Marxism and Leninism as the guiding principle, with gross human rights violations. Read Human Rights' report on Eritrea. Eritrea.

Several thousand are in prison without trial, for their opinions. It is ranked as the world's worst countries in terms of press freedom. Read about Eritrea at Reporters Without Borders. http://en.rsf.org/eritrea.html

Eritrea is one of the world's most militarized countries with a military service that includes forced labor. 

http://www.nrk.no/nyheter/verden/1.7128324 
---